It's hard to keep up with Essie sometimes, and that's definitely the case around the start of each new year. In this post, we're going to look at the Essie Valentine's day 2023 collection. I wasn't able to get my hands on all the shades, simply because they sold out very quickly. This year's Valentine's day collection is a little bit different from the previous romantic Valentine's day collections, because this year's collection is inspired by breaking up instead of some romatic getaway.
I was able to get my hands on two shades: Flirt with freedom and Fuel your desire. I also really like License to thrill, but that one sadly sold out already. The red shades apparently also have an amazing formula, but I couldn't justify picking up more Essie reds.
Essie Fuel your desire
Fuel your desire was the first shade I purchased from the Essie Valentine's day 2023 collection. When I purchased Essie Fuel your desire, I was under the impression that I was buying a cool pink creme. However, Essie's original description already gives away that this shade is actually a purple: 'let your heart run wild with this iris purple vegan nail polish with red undertones'. It was a nice surprise because I actually really like the shade! The formula also applies very easily and the shade is opaque with two coats. Definitely a must-have in my opinion!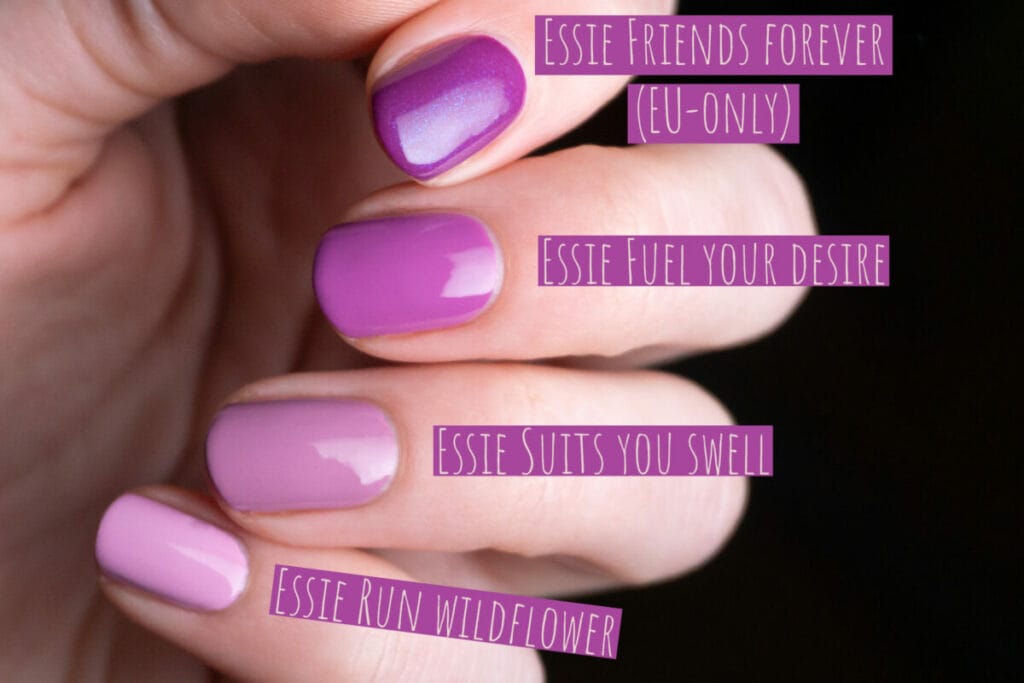 I expected that I would own some shades that were close to Fuel your desire, but upon closer inspection, I noticed a lot of shades were either too blue, too light or too dark. And in that sense, Fuel your desire is kind of an odd shade. Essie Friends forever is a bit darker than Fuel your desire and contains blue shimmer. Suits you swell is the desaturated version of Fuel your desire, and is a bit lighter. Run Wildflower is a lot lighter than Fuel your desire.
You can find Fuel your desire currently over here on Amazon.com (affiliate link), but only a couple are left! For some reason, a lot of sites don't carry the Valentine's day collection.
Essie Flirt with freedom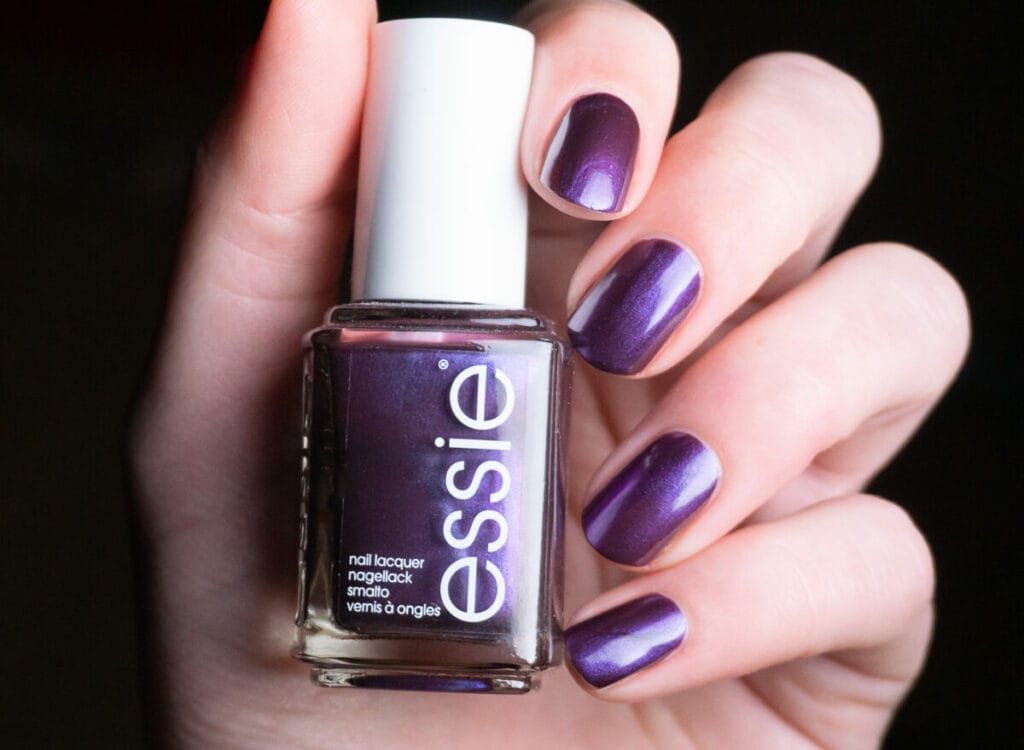 Flirt with freedom was the number one from the collection for me, and the one I just had to get no matter what. On Essie's website Flirt with freedom is described as 'a blackened plum vegan nail polish with a smooth, silky tone-on-tone pearl'. To me, Flirt with freedom is a dark purple shimmer with a slight duochrome look (from blue to pink). The first coat of Flirt with freedom is very sheer, but it builds up nicely with two coats. It's something that most of my duochrome nailpolishes have, so it's no big deal.
I immediately knew I didn't have an exact dupe for Essie Flirt with freedom, but I really like purple shimmers, so I knew I had something to compare. The first one I pulled out was OPI's Sound of vibrance which is from the summer collection from two years ago. It's a purple with a very intense blue shimmer. I indeed find this shade very vibrant, but it did take me three coats to reach opacity. OPI Let's take an elfie is another favorite. I was surprised to find that Let's take an elfie contains a lot more pink than Flirt with freedom. I definitely prefer Let's take an elfie (sorry Essie!). Russian Navy is a purple shimmer with blue undertones. When you put it next to a true purple, it suddenly looks very blue. Both Russian navy and Let's take an elfie also required two coats for full opacity.
Although I really enjoyed wearing Flirt with freedom, I was kind of disappointed after the comparison. All these OPI shades are basically nicer shimmers than Flirt with freedom! You can currently still find Flirt with freedom over here on Amazon (affiliate link).
Conclusion
I really liked the shades I got from the Essie Valentine's day 2023 collection, both shades were a lot more unique than I initially expected. They had a great formula and the colors were really nice. I appreciate that Essie is doing something a bit different this year, because I got slightly bored by all the usual pinks and reds for Valentine's day! I might still pick up License to thrill, but on the other hand, I feel like most creme shades get duped pretty fast, so who knows, maybe in the near future another blue creme will be released soon.
Usually, the Valentine's day collections are really limited editions, and once they sell out, you truly cannot find them anymore. So my advice would be to get them while you can, if you're really into them.
As an Amazon associate, I earn from qualifying purchases.