It has been quite some time since I actually did a swatch post! Don't worry, behind the scenes I'm working on some cool stuff, but it's just taking some time to compile an actual post! I haven't been that excited about any Essie collections recently, but I couldn't pass up on the new Essie Expressie FX release. In case you missed it, Essie released three new FX toppers, together with some new cremes. The new cremes seem to be only available in Europe and Australia for now, not in the US.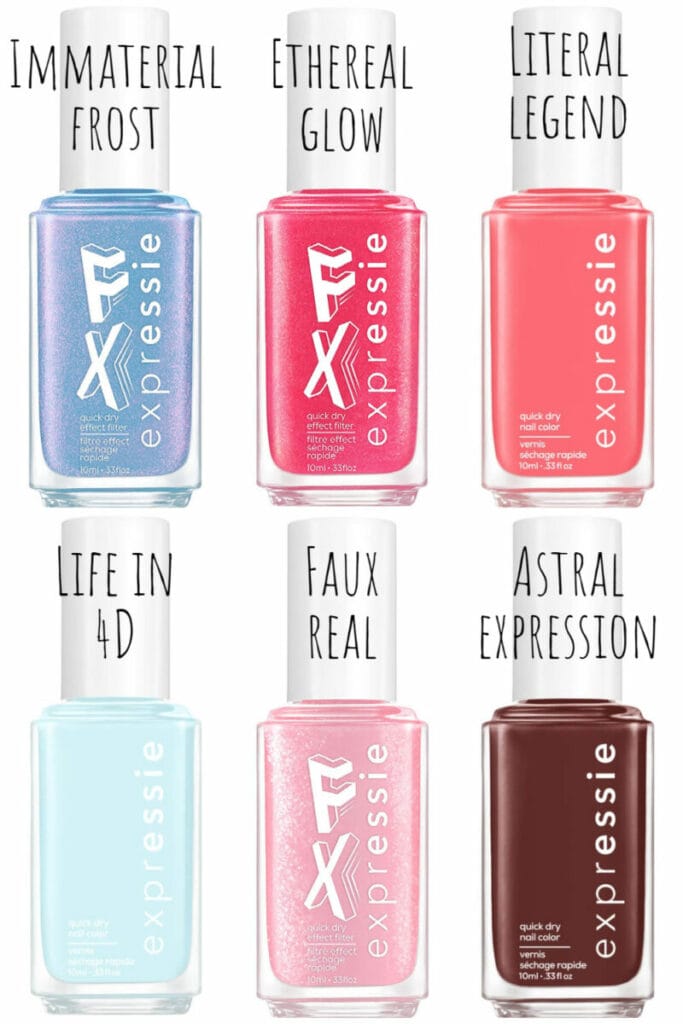 Since Expressie is not my favorite line, I didn't want to splurge on the entire collection. So I picked one creme and one FX topper that I liked the most: Life in 4D (the light blue creme) and Ethereal glow (a shimmer topcoat in a pink base).
Essie Life in 4D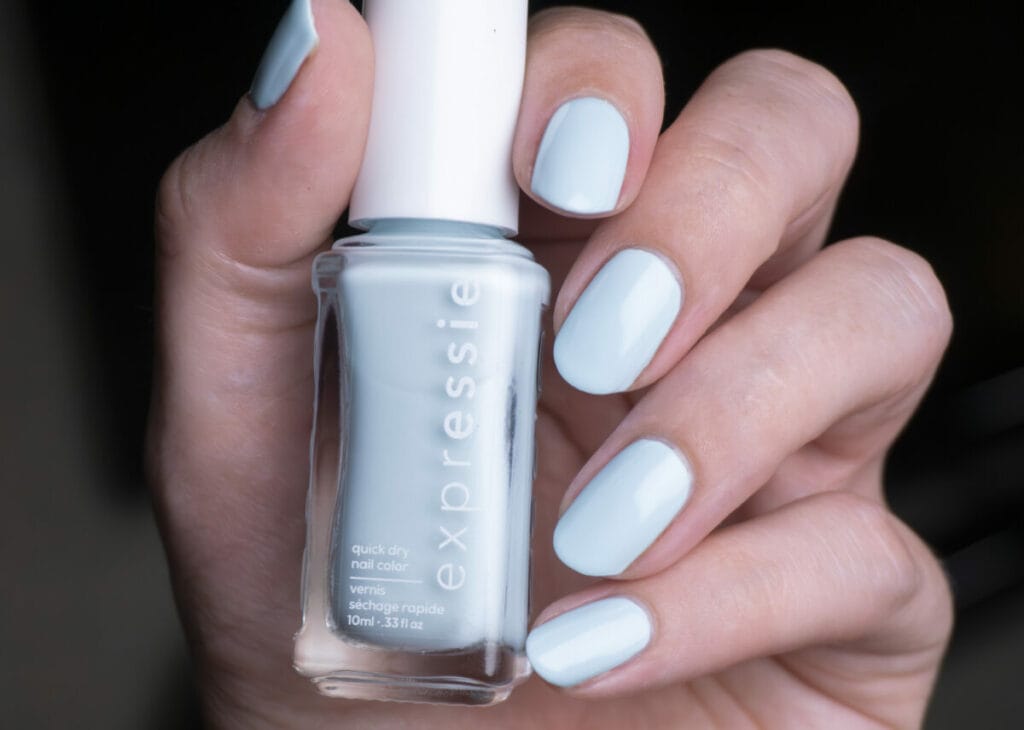 Life in 4D is a very pale blue creme, and it's been a long time since Essie released one like this. So I felt like I had to have it.
It was not surprising that I needed three coats to get full coverage with this light color. But the shade applied smoothly, so it didn't bother me much.
I love light blue nail polish, so I've collected quite some light blue shades over time. The best description that I could give of Life in 4D is that it's basically a paler version of Essie Blue-la-la. Essie Blue-la-la is also discontinued, so I'm happy that Essie finally releases something similar. Essie Find me an oasis is even paler and contains quite a bit of purple. Essie Pic-nic of time is darker and also contains more purple.
Essie Ethereal glow
I chose "Ethereal glow" as my special effect topper. Ethereal glow is a pink jelly with duochrome shimmer that changes from gold to pink. I was drawn to Ethereal glow because I saw how it looked over a dark blue, and I fell in love with it. I paired Ethereal glow with Essie butler please, and it's such a stunning combo! The pink shimmer stands out over the vivid blue.
My original idea was to wear Ethereal Glow over Life in 4D, however, that wasn't very successful. I'm not sure if it's visible in the picture above, but because Ethereal glow has a pink base, it looks very patchy over lighter colors such as Life in 4D. I really love how Ethereal glow looks over black, and I think it would be perfect for Halloween. You could wear Ethereal glow on its own, but it's very sheer. I also really love it over pink, where it just gives a subtle shimmer (such as over Second hand, first love).
Conclusion & availability
I'm quite pleased with the shades that I chose. Life in 4D is somewhat special in my collection, and Ethereal Glow was also new to me. I don't think a person has to get all the special effect toppers at this stage, because I saw from other swatches that they don't look very different over darker colors.
The availability is a bit of a weird story. I'm not sure if the three cremes are still going to be released in the US (maybe as part of another collection?). I'm also not sure if the brown shade is going to be released in Europe (I haven't seen it anywhere yet). Anyways, if you're looking for the FX filters in the US, they are currently on Amazon US out over here (affiliate link).
Disclaimer: as an Amazon associate, I earn from qualifying purchases.