It feels a bit weird to type 'black label' OPIs because ever since 2015, all OPI's shades have had black labels again. However, what people in general mean with 'black label OPI's' or 'BLOPI's', is pre-2006 black label OPI shades (the label being the sticker on the bottom). From the start of OPI until approximately mid-2006, OPI produced shades with black printing on the bottom. Starting mid-2006, OPI changed their label to a label with green printing to show that some chemicals were removed from their formula, and to show that they introduced their pro-wide brush.
Among nail polish collectors, the pre-2006 black label OPIs are viewed as collector's editions, mainly because the shades are known to dry fast and have amazing finishes. The only downside of these shades is that they're super difficult to find. The only place you can usually find them is on eBay (for a lot of money), or you need to stumble upon an old beauty supply store that is selling its old stock.
I never thought that I would be able to own black-label OPI shades, but it happened that I stumbled upon a beauty supply store in Paris that was getting rid of its old stock. I couldn't go there myself, so I just asked them to ship all the shades that they still had. The result: I got a huge box with almost 400 black-label OPI shades! Of course, there were many duplicates (later more about that), but there were so many unique shades that I had never seen! It definitely felt like Christmas (even though I had to pay for it myself)!
It inspired me to start this series: I suddenly have a lot of OPI Black label shades to show you! Most shades are easy to find on other websites, but some shades are super unique and I wasn't able to find any other swatches. For now, this series will just be a random bunch of black-label shades, but maybe in the future, I will group them by collection.
In case you immediately want to skip to your favorite shade:
OPI Glacier Bay blues
OPI Glacier bay blues was originally released for OPI's Canadian 2004 collection. As far as I know, the shade was discontinued soon after (my bottle also was produced in 2004, so I have no 'evidence' that it was still produced after the release of the collection). Ten years ago, this shade was already difficult to find, so you can probably imagine that it's even harder to find nowadays. Glacier Bay blues is a navy shimmer but it also has a duochrome shift from green to pink. If you look at it from the right angle, it just seems like you're wearing green! My guess about why this shade is discontinued and not coming back (despite all pleadings of many fans) is that the shifty pigment used is not available anymore.
The shade is very thin on the first coat, but it builds up very quickly. I'm wearing three coats in the picture above. Although these black label OPI's are known to dry very fast, I managed to smutch my nails three times (which normally never happens to me), so I guess it doesn't dry that fast. Nevertheless, Glacier bay blues is very pretty and especially if you're into blue-green shifting shades. On eBay, this shade retails for 30-40$, which is not really worth it in my opinion. However, when you're able to find it for a reasonable price, it's very much worth it. Unfortunately, I only found one bottle of Glacier Bay Blues, but of course I will keep looking for more!
On Instagram, I received many comparison requests for Glacier Bay blues. The first shades I pulled out myself were OPI Unfor-greta-bly blue, OPI Yoga-ta get this blue and Essie Bell bottom blues. Unfor-greta-bly blue is lighter than Glacier bay blues and much streakier. It's probably my least favorite shade from this bunch. OPI Yoga-ta get this blue is brighter than GBB, but does not have the multichrome shimmer, it's a very pretty shade though! Essie's Bell bottom blues contains more green and the shimmer is larger than in GBB, it's also a very pretty shade though!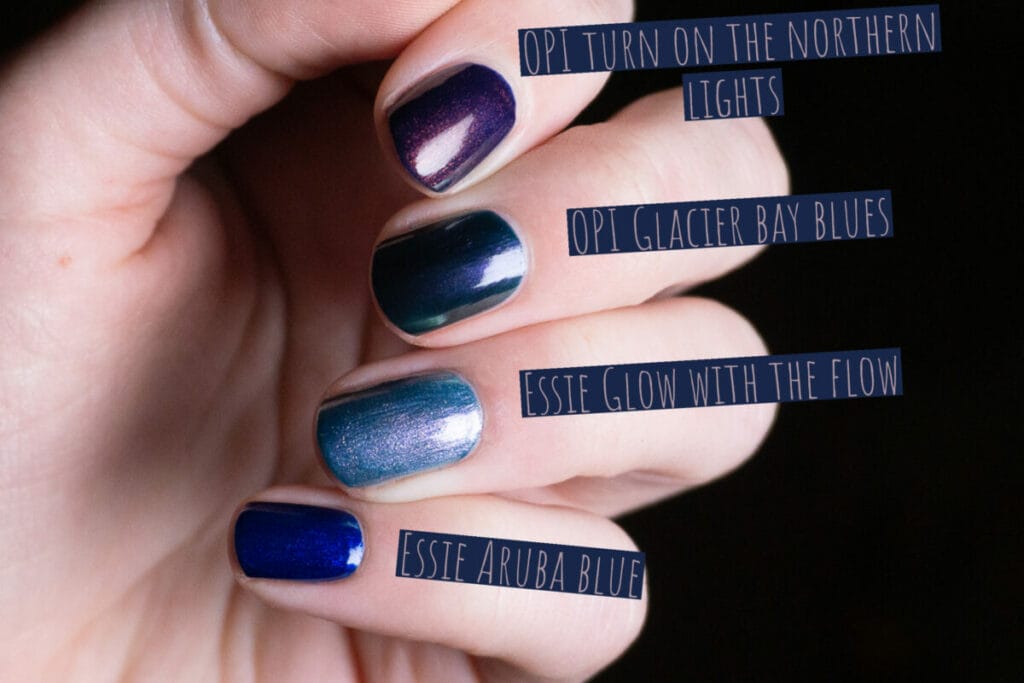 Of course, I got the request to compare Glacier Bay blues with OPI's Turn on the Northern lights. Turn on the northern lights is a lot more purple than GBB. Also, the shimmer of Turn on the northern lights is orange, while GBB has a shift from pink to green. Essie Glow with the flow is much lighter and has a different shimmer. Essie Aruba blue is a much more vibrant shade of blue and doesn't have multichrome shimmer (still very pretty though).
It's basically impossible to find an exact dupe for Glacier Bay blues nowadays!
OPI Double decker red
OPI Double Decker red was released as part of OPI's Fall 2003 British collection. I know this shade wasn't discontinued immediately since my bottle was produced around 2006 (it has a black label but with the green label design). This shade is therefore not super rare, and you can still easily find it for approximately 10 dollar on eBay.
Application of Double Decker red was super easy, it only took two coats to reach full opacity. It has a slightly crelly consistency, so people with longer nails might need three coats.
I didn't do any comparisons for this one: I'm pretty sure there are dupes in OPI's current collection. I just don't own that many OPI reds at the moment!
OPI Celebrity Celery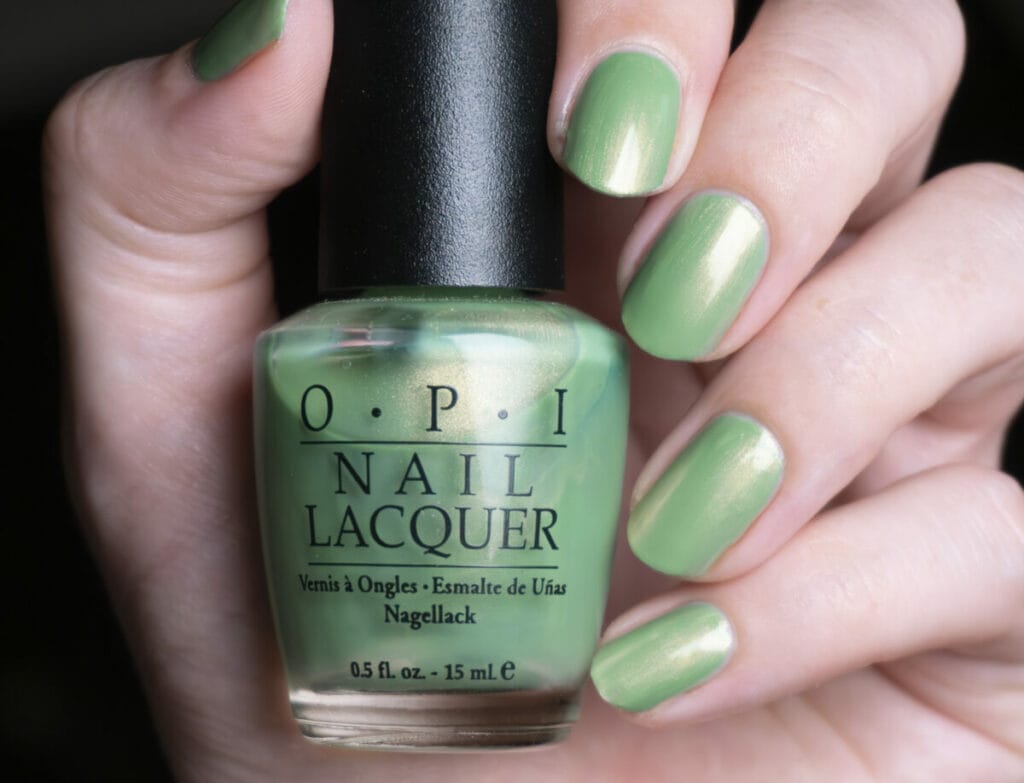 OPI Celebrity Celery is a special one. Unless you're a huge OPI fan, you've probably never heard of this one. I had never even heard of this one when I found this particular bottle! OPI Celebrity celery was released as part of OPI's California 2001 collection. Not many records of this collection exist, but the ones that I found were all saying that this was an Asian/Australian exclusive collection. That's actually quite odd because I found this collection in Europe! The story becomes even stranger. This shade was also released under the name 'Creme de Menthe' as part of OPI's 1998 X collection and was also released as Cellular celery for the launch collection of Nicole by OPI in 1998. This shade was later rereleased in 2002 as part of OPI's Japanese exclusive Yokohama collection as 'Cellular celery'. This shade was therefore released in four collections with three different names! Can you believe it!?
If you're thinking now that this color is probably super easy to find because it was released in three collections: you're wrong! This is one of the most difficult OPI green shades to find!
Now onto the shade itself: Celebrity Celery is a green with a good amount of blue. It has a gold shimmer running throughout the polish. The application was very easy and it was completely opaque in two easy coats.
For some more good news: I actually found multiple bottles of Celebrity celery! Because I found so many duplicate shades, I actually opened my own Etsy shop with vintage OPI shades over here. You can find a used bottle over here, and a brand new bottle over here on my Etsy store. Just a warning: they are a bit pricey!
OPI Your villa or mine?
Finally, the last one that I want to show you today is OPI Your villa or mine? This pink with gold shimmer was released as part of OPI's Spring 2001 Italian collection. But let's just admit: this shade could have easily been a part of OPI's recent Barbie 2023 collection! This color is still relatively easy to find because it wasn't immediately discontinued after its release (it's even available as a green label shade if I'm not mistaken!).
Although these types of vintage pink shades often apply terribly, this one was perfect. It only had to do two easy coats to reach opacity.
If you're looking for this one: you're also lucky, because I found around 20 bottles and need to get rid of them! I listed them over here on Etsy. They are one of the cheapest polishes in my Etsy shop, and even cheaper than on eBay. So definitely check this one out if you're looking for a nice black-label OPI!
Conclusion
This was definitely an interesting post to make. It took me a fair amount of research to find out some of these background stories, but I really enjoyed it. It's sad to see that these OPI shades have become so difficult to find, and I'm definitely hoping that OPI will do a sort of 'bringing back…' collection again. How fun would it be if they just brought back the entire 2001 Italian collection, or the 2004 Canadian collection?
Anyway, if you enjoy these black-label OPI shades, definitely check out my Etsy shop. I'm in the process of listing all my duplicate shades there. Some colors are a bit pricier because I only found one bottle (and I'm only willing to get rid of it for a fair price), but there are also shades that I found so many bottles of that I just need to get rid of, so you would basically be doing me a favor!