[PR] Who's ready for a brand that has never been featured on my blog before? It's time for the dutch brand Trind Cosmetics today! You might know Trind Cosmetics from their nail care products which have been incredibly popular. Before I started my blog, it was one of the first nail care products I purchased when I damaged my own nails with gel polish. I kind of knew they also made nail polish, but I never came across it 'in the wild', so I had never tried it before.
This week I learned that Trind always releases two new nail polish collections per year, one spring/summer collection and one fall/winter collection. This time, I got the spring/summer 2023 collection to review. The collection is called the Ocean dream collection and consists of six new shades. Inspired by the most beautiful oceans, coral reefs, and fantasy sea life.
Trind Atlantis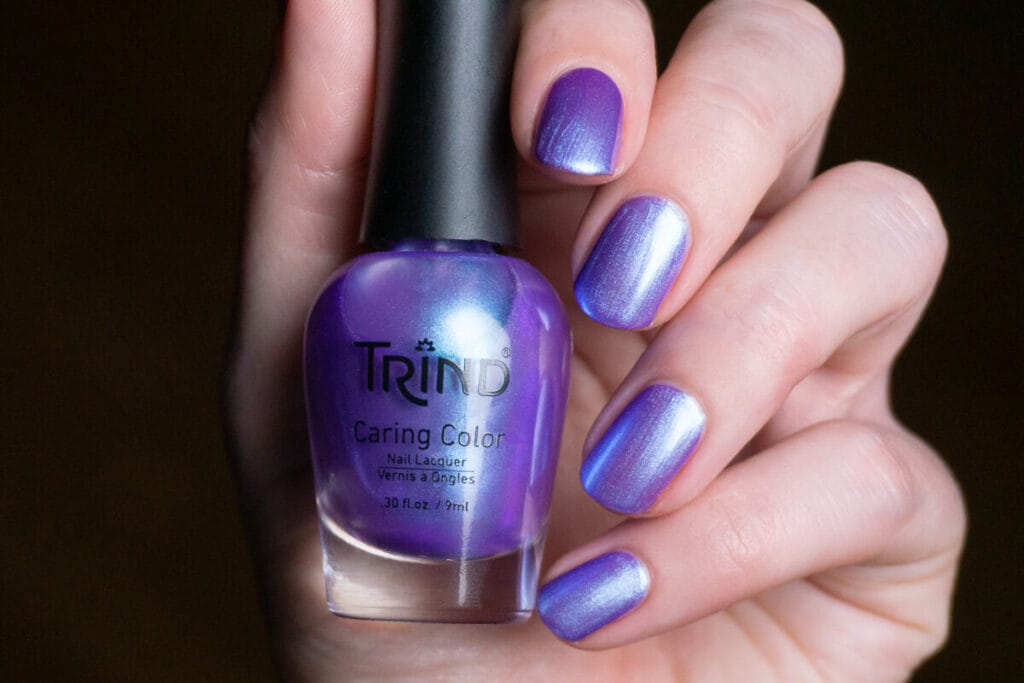 Trind Atlantis is a shimmery duochrome blue-purple. This was probably one of the more popular shades when I shared it on Instagram. Funnily, initially, when I saw this shade in the bottle, I wasn't that impressed and thought it was just going to be another shimmery purple. But it's actually really great on the nail! It has this electric light blue shimmer that just pops!
I did have to do three coats for full opacity, and I did see some brushstrokes in the end. But I completely forgive this polish just because it is so awesome! Trind suggests you can also use it as a top coat over darker shades (like Trind's own Ocean splash), but I haven't tried that yet.
Trind Clownfish coral
Clownfish coral, of course, immediately reminded me of Finding Nemo. Clownfish coral is a coral orange, and I would personally classify it more as an orange than as a coral. I love these types of shades for summer, so I just know I'm going to have a lot of fun with it. The formula was very good and super easy to work with. It only took me two coats to reach the result that you see in the picture.
Trind Mermaid tail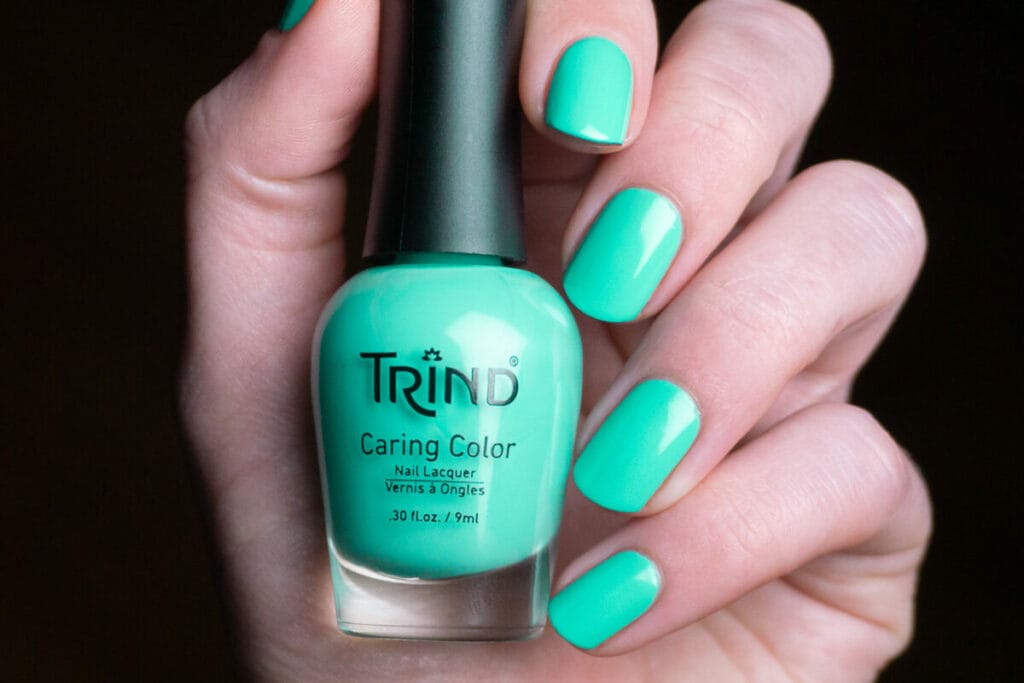 Of course, before I received this collection, I had seen some promotional pictures. But it wasn't until I actually saw Mermaid tail in real life that I realized how awesome it actually is. Mermaid tail is just described as a turquoise teal creme, but it is much more than that. The color is bordering neon territory (I wouldn't call it a true neon though), and contains a good amount of green. It makes it a very unique shade in my opinion. The formula was very good as well, and it only took me two coats to reach opacity.
Trind Pink starfish
Again, I didn't realize how great this shade was until I actually saw it in real life. Pink starfish is a neon pink creme. Usually, I roll my eyes when a description says 'neon' because I have been disappointed so many times before (if you know, you know). Pink starfish is actually neon though, and the best part is that it doesn't require a white base coat to make it pop. What you're seeing here in the picture is two super easy coats. I wouldn't be surprised if it dried to a semi-matte finish, so you're probably going to need a top coat if you're not into the semi-matte neon look.
Trind Ocean splash
Ocean splash is a blue creme with a hint of dark periwinkle. This collection is inspired by the ocean, so it makes sense that there is at least one blue shade! Ocean splash has an amazing formula, and was almost opaque in one coat (but I'm wearing two coats in the picture). Ocean splash does have that typical blue polish smell, that some call a 'skunky' smell. It doesn't bother me, but it's apparently caused by the use of sulfur during the production of the pigment 'Ultramarine blue', but it's nothing to be worried about!
Trind Fantasea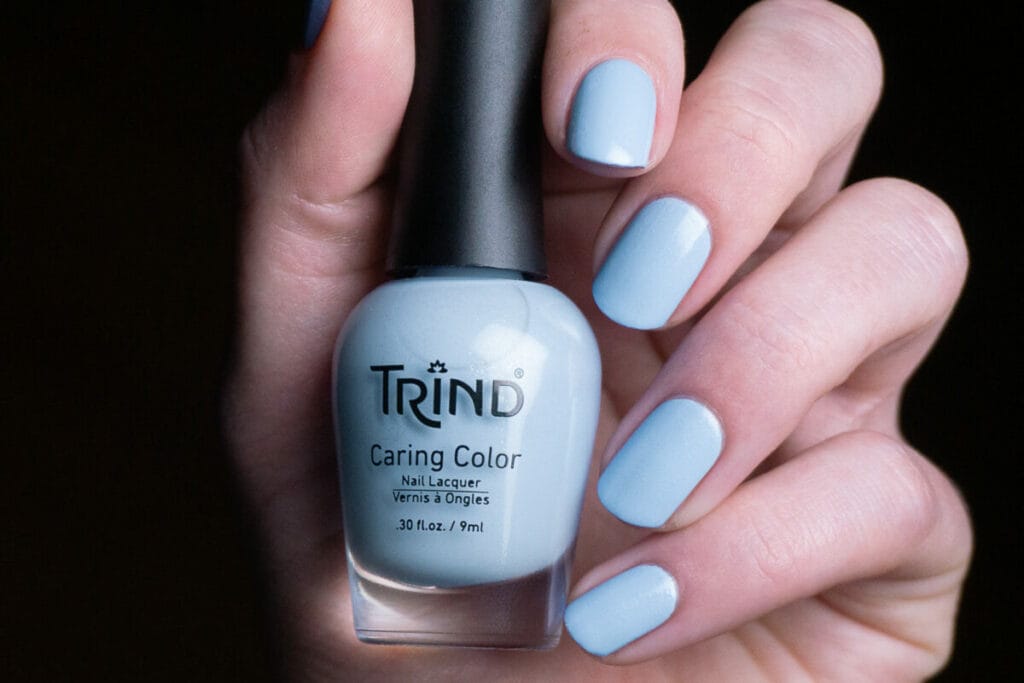 Last but not least, we have Fantasea. Fantasea is the second blue in the collection and is a baby blue with a subtle silver shimmer. It's difficult to see the shimmer in my picture, but it's definitely noticeable in real life. I was a bit worried about this shade beforehand, but to my surprise, this shade was also opaque in two coats and very easy to apply. This one doesn't have the typical blue smell, in case you're wondering!
Conclusion & Availability
I might be a bit biased because I always enjoy trying new nail polish brands, but I'm really impressed by this collection by Trind Cosmetics! All shades in this collection had amazing formulas, and I love the color story of this collection (and the individual shades)! It's hard to pick a favorite because I honestly think all shades are nice!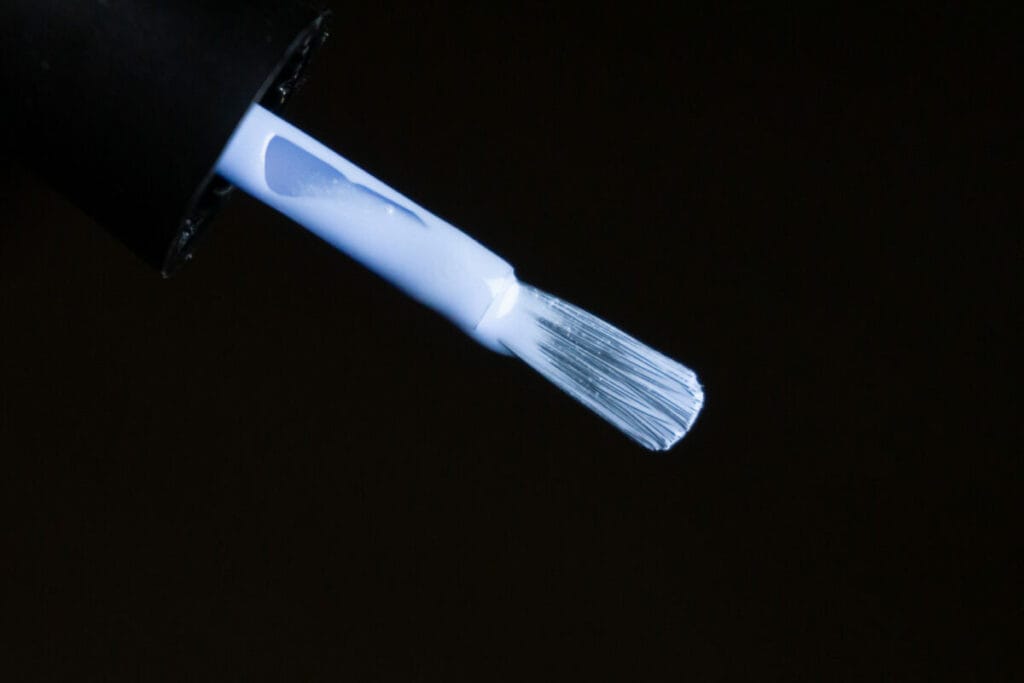 Because it's my first time trying Trind nail polish, I thought it would be good to share the shape of the brush. It's a rounded paddle brush, but it's not too wide. If you're into wide brushes you're probably going to like this brush, but if you're into smaller brushes, you're probably also going to like this brush. If I had to design a nail polish brush myself, I would probably design something that looked like this, so I'm definitely very pleased. It made the whole process of swatching this collection much easier!
The collection is available on the dutch Trind website and the German Trind cosmetics website. Trind Cosmetics also has an international nail polish website (over here). These limited edition collections are usually not available in other stores, so you should really order them from Trind's own websites. I can't believe that I haven't tried Trind nail polish before, because it really seems like I have been missing out!