I finally have some Essie news that I'm really excited about! If you've been following Essie's recent releases you know that they have been filled with creme nail polishes. For me personally, it started to be a bit tiring. However, Essie is back with two new exciting collections: Nail art studio Special effects and Nail art studio Jelly gloss! Both collections are huge, and they are really something different than what we've recently seen from Essie.
Essie Nail art studio special effect
This is probably the collection that I'm personally the most excited about. The Essie Nail art studio special effect polishes are going to be a nine-piece collection consisting of special effect toppers. They are designed to bring any manicure to a new level, but they can also be applied over the naked nail. According to Essie, this collection is divided into three different 'pearl technologies', we've got the flaky pearls, pixel pearls, and the satin chromes.
The shades are going to be called:
Divine dimension (part of the flaky pearls, seems like a white flaky no official description yet)
Lustrous Luxury (part of the flaky pearls, seems to be a holographic toppper)
Separated starlight (flaky pearls, a flake topper with yellow undertones)
Astral aura (a pink duochrome)
Frosted fantasy (a teal to gold duochrome)
Ethereal escape (a light purple duochrome)
Cosmic chrome (a light translucent silver)
Gilded Galaxy (a pink/orange translucent metallic)
Mystic marine (a green with pink shimmer)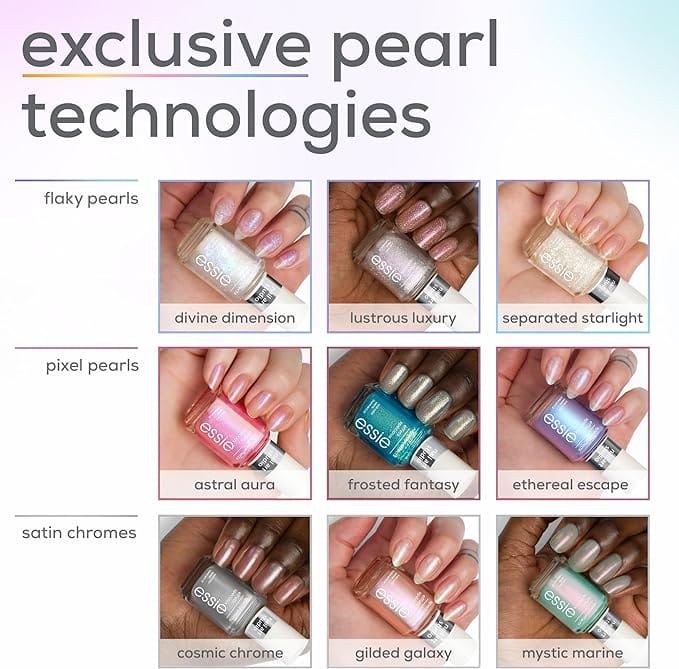 I personally can't wait to see swatches of this collection. It seems like something Essie doesn't have now in their permanent collection so I'm really excited about these!
Essie Nail art studio jelly gloss
The Jelly gloss collection is also going to be a nine-piece collection. As the name suggests, this collection consists of all jelly polishes! Essie says you can wear these shades with two coats for a sheer wash of color, or you can layer them with other shades for a milky effect. The nine shades are going to be:
Arctic jelly (a white jelly)
Ink jelly (a black jelly)
Blush jelly (a pink jelly)
Cheeky jelly (a brown jelly)
Orchid jelly (a purple jelly)
Sky jelly (a light blue jelly)
Cactus jelly (a green jelly)
Buttercup jelly (a yellow jelly)
Apricot jelly (an orange jelly)
I'm not that much of a jelly nail polish fan myself, mainly because you can easily make them yourself by mixing some regular nail polish with topcoat. However, I have to admit that I'm excited about this collection.
Availability
These shades are likely going to be released around the 1st of January in North America. There is no release date for Europe or the UK yet.